Time to peak into everyone's lives and see what we've been munchin' on this week: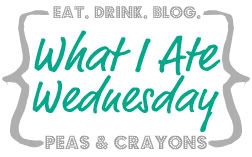 WIAW Hosted by Jenn.
So this week my two obsessions have been roasted snap peas and spaghetti. I seriously cannot get enough. I've been eating them every day.
So let's get to it!
JD decided to be a total sweetheart and cook me dinner one night this week. Turned out a lot better than I expected! (Haha sorry babe.)
Not the best picture, but it was AMAZING. Ground beef + yellow bell pepper + onion + garlic + canned stewed tomatoes+ lots of lime juice with some s'ghetti and feta. Freakin' amazing. Proud of the boy ;).
Mixed the leftovers with roasted snap peas:
Absolutely divine.
Been loving feta too this week now that I think about it:
Chicken/broccoli/feta bowl. Mmmm.
I actually have an easy but tasty recipe for you guys today too!
Roasted Snap Pea, Bacon, Sweet Potato, Chicken Bowl
-2 small sweet potatoes, chopped
-4 cups snap peas
-2 medium sized chicken breasts, cubed
-8-10 pieces bacon
-Lots of spices (salt, pepper, paprika, chili powder, LOTS of garlic, onion powder, oregano)
-Cooking spray or olive oil
1) Oil, season and roast the potatoes, snap peas and chicken in the oven at 400 degrees. About 45 minutes for the potatoes and chicken and roughly 20-30 for the peas.
2) While those are roasting cook your bacon on the stove top.
3) When everything is done, mix it all up in a giant serving bowl and dig in!
Makes about 2-3 servings.
This was beyond tasty. I will definitely be making this again!!
Oh and shoutout to my bff who turned 21 this Sunday:
We had a lovely evening out. Quite nice with the bars being empty (ya know, cuz it was Sunday and all).
The boy and I both wore our new shoes:
Dorks! Haha.
Have a great rest of the week everyone!