Truth be told, I've been slacking on taking pictures of my eats this week! I don't think I snapped a single picture of my food while I was home (*gasp*). But I do have a couple of pictures from last week that I can share for WIAW: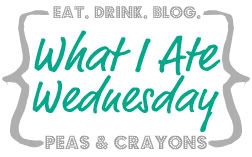 Hosted by Jenn.
PLUS, I'll throw in a recipe to keep things interesting.
I have been LOVING breakfast foods lately. Bacon, toast, eggs, parfaits, all of the above. Besides my usual salad for lunch, I've been eating breakfast foods for practically every meal and snack. Not sure why this craze hit, but I'm rolling with it. I've been having these two meals ALL the time lately. First one:
Canadian bacon + eggs + toast with hummus + roasted peppers & green beans
It's the perfect balance of carbs, protein and fat and it makes my tummy/taste buds happy.  Win win.
Second favorite meal lately:
Egg white scramble with roasted peppers, spinach, onion & feta (mmm) + canadian bacon + a small sweet potato.
Another perfectly balanced and amazing meal.
Another recent obsession of mine:
Ahhh I forgot how delicious this stuff is. I've been spreading it on everythinggg lately. De-lish.
And now, since you guys haven't shunned me for only taking a couple pics, I'll reward you with a simple, healthy and DELICIOUS recipe!
JessieBear Eggy Oats
-1 cup water or milk of choice (vanilla almond milk is SO good with this!)
-1/2 cup old fashion oats
-1/2 cup egg whites
-1 tablespoon honey or brown sugar
-1/8 tsp vanilla extract (or maple extract)
-pinch salt
-toppings or mix-ins of choice
1) Put the water or almond milk in a small sauce pan and bring to a boil on the stovetop.
2) Once the water boils, put in the oats.
3) When they bubble up (in about a minute or two) bring the water down to a simmer & slowly add the egg whites, whisking constantly.
4) Add in the rest of the ingredients & keep whisking often until the oats look done and start to pull away from the sides of the pan when you stir.
5) Pour into a bowl and top with your favorite toppings!
My favorite way to eat this is with copious amounts of almond butter or sunbutter and maybe some granola.
Mmmm.