Good mornin' everyone… why yes I am aware that it is after 2:00 in the afternoon, but it is morning time for me! I stayed up super late and went to a midnight premier for 'The Mortal Instruments' movie…. which was pretty freakin' awful, but I had a helluva good time dressing up and making a fool of myself with a friend (actually we got high fives on the way there and told that are costumes were awesome- pictures to come later). I ended up staying up even later after the movie discussing how bad we all thought it was. Definitely had fun, but the conversation lasted so long so I reeeeallly got to bed late. Needless to say, I am positively dead on my feet. I considered not posting today, but I did promise you guys a super easy cookie recipe and I don't break my promises ;).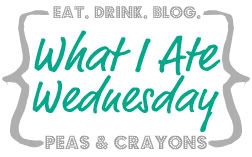 WIAW hosted by the lovely Jenn.
Now that I've ranted about that terrible movie, I'm just going to keep the words to a minimum. Let's all look at pretty pictures of things I ingest, weeeeeeeeeeee! (Three cheers for sleep deprivation!)
Breakfasts have been the same everyday (I'm so boring). Yogurt mess and black coffee:
But I do love to make pancakes for the boy on the weekends and this weekend was no different. We came up with another pancake recipe winner in the kitchen:
Coffee Pancakes
-1 mashed banana
-1/4 cup egg whites
-2 tablespoons almond butter
-1 tablespoon ground coffee
-2 tablespoons pb2
-1/2 tablespoon coconut flour
-1/2 tablespoon coconut sugar
-pinch of salt and a dash of vanilla
1) Mix all the ingredients in a bowl and cook on a griddle over medium low heat. They cook a little slowly so be careful about flipping them too soon. Makes 5 small pancakes.
Lunches have also been the same ol' salads:
But I have been switching it up and making some fantastic dinners.
(lazy girl dinner: sausage, microwaved sweet potato + lima beans)
My favorite dinner this week was this one:
I followed this recipe for Black Bean Chili Chicken and this one for Guacamole Cauliflower Rice. Both were OUTSTANDING. I'm actually making them again this weekend, because I devoured my leftovers and absolutely NEED more of both.
And last, but not least, dessert has been my favorite meal this week:
Four Ingredient PB Cookies
-1/3 cup Cookie Nookie peanut butter  
(you could use regular pb, but add more sugar to get more decadent cookies)
-1 tbs egg whites
-3 tablespoons coconut sugar (or other sugar)
-1/4 cup chocolate chips
1) Preheat your oven to 350 degrees.
2) Mix up the batter, form into balls and place on a greased cookie sheet or one covered with parchment paper .
3) Bake for 8 minutes
This recipe makes 6 small cookies and it is PERFECT for splitting between 2 or 3 people, guilt free. It also takes mere minutes to make, so you can whip it up any time you fancy an easy treat.
Well, I'm off to class. See you all next week!