Ready to find out what I've been munching on the past week?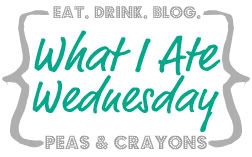 Hosted by Jenn.
This week I've eaten:
A giant batch of Laura's dijon chicken (nnng sooo gooood), edamame & peppers:
More Barramundi fish and asparagus:
Kylie's Fig Newton Pancakes (with raisins instead of figs, because I was determined to try these even with no figs in sight! haha) :
Didn't get the swirl nearly as pretty, but they were still freakin' delish.
I topped with my new favorite yogurt:
I also made Chocolate Covered Katie's Single-Serving Peanut Butter Cookies:
I doubled the recipe (the original makes two cookies) for JD and I. I made some substitutions by using one tablespoon of egg whites instead of applesauce, using oat flour instead of regular flour, and of course, added chocolate chips! I LOVED these. First time baking with oat flour and I loooved it. I will definitely be making these cookies again and more things with the oat flour.
I also made a mini batch of Kylie's Healthy Brownie Batter to spread on top of the cookies:
The picture doesn't do it justice, but this was awesome. JD may or may not have tried to hog it all because he liked it so much ;).
I also had a girl's night with one of my good friends and we made steak, roasted zucchini and Alexis's Roasted Garlic Mashed Cauliflower:
You NEED to try that recipe. Creamy, garlicky and downright delicious.
Have a wonderful week, folks!